ElectroSoft Engineering is a Chilean (South America) company that offers custom electronic design / development services and consulting for materializing projects with high technological content in the areas of electronics and software at a reasonable price.
We can help you develop your next product or project. Whether you need a complete system design service or just a part of it, we can help you to make your project a reality!
Outsourcing to Chile: Is distance a problem?
We don't think so. Today the internet allows to have a very quick communication between physicaly distant places, and for this reason we think that today we are closer than ever. During the design cycle we can send you pictures and information as the development progresses, if necessary.
Another good reason for outsourcing design jobs in Chile is that development costs are smaller compared to other countries of the world, without affecting the quality and reliability.
If you need electronic design services, we invite you to send us a message describing all your requirements via the contact form or by phone. We are going to send you a free quotation as soon as possible.
For more information about our company please click the following link:

About Us - Electronic Design Services - Electrosoft Engineering
Our company offers the following services:
Custom design & development of electronics circuits and systems
We design the circuit according to the requirements or specifications given by the customer, regarding of what is expected for the circuit to perform (i.e. elements to monitor, elements to sense, actuators, control, etc). We carry out the electronic circuit design to fit what the customer expects.
These specifications can cover areas of Power, General Electronics or Embedded systems in low and high frequencies.
If you need a complete electronic design service we can also design firmware as described in the Software and Firmware Division services section.
Please visit our article : Basic guidelines for designing a custom electronic system
PCB Design (Printed Circuit Board Design)
From the circuit diagrams provided by the customer, we carry out the design of the PCB constrained to the physical specifications (board size, holes, board shape, etc) provided by the customer. As a product we deliver the PCB files in Gerber, Altium Designer or Protel99SE formats.
You can find examples of some of the PCBs that we have designed in the following link:
PCB design examples
Reverse Engineering of Printed Circuit Boards ( AKA PCB cloning )
Have you lost your schematic / layout files of an old design and now you need them back? Or maybe your company has a machine where a circuit board is failing and when you call the manufacturer for spare parts, you realize that the company doesn't sell those old parts anymore or simply the company doesn't exist today.
If you are in one of those scenarios, this service is for you. This service consists in reproducing the printed circuit boards provided by the customer. The service is limited to 2 layer boards and to the information provided by the customer.
In the table shown below there are some reference costs for reverse engineering. The costs are presented per [sq inch] or per [sq cm]. Note: The costs shown doesn't include components. The components' costs depends on the board.
| | | |
| --- | --- | --- |
| Job | Cost per sq inch | Cost per sq cm |
| Schematic Capture from the sample PCB | 20$ | 3.1$ |
| PCB Layout | 5$ | 0.77$ |
| PCB Manufacture (for 10 PCBs) | 1.29$ to 3.35$ | 0.2$ to 0.52$ |
Contact us for more information.
Printed circuit board manufacture (PCB Manufacture)
With the Gerber or PCB layout files, we carry out the manufacture of the board. We can manufacture a printed circuit board with a maximum of 10 layers.
If you want to keep your PCB costs low, read this article:
Basic guidelines for reducing printed circuit board cost

Printed Circuit Board Assembly
Having the physical printed circuit boards, we offer the service of assembly. The electronic components or parts can be provided by the customer or by us.
Embedded Firmware and Microcontrollers
We develop firmware for the printed circuit boards that have been designed through the services described in the Hardware and electronic circuits division section. Firmware development is done to completely fit the customer's specifications or requirements.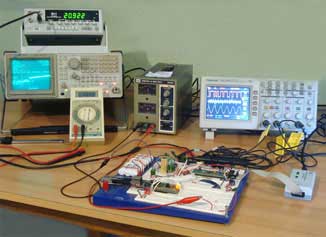 We have a section of technical articles that we are currently developing, for visiting it please click in the following link: Electrosoft Engineering Articles
If you have any question, please don't hesitate in contacting us. We are committed to serve you.
Contact us - Custom Electronic Circuit Design
If you want to visit our site in spanish please click in the following link:
Electrosoft Ingenieria - Sistemas electronicos personalizados y circuitos impresos PCB
Electrosoft Ingeniería at the moment will be only attending customers in Chile and South America. For customers from other parts of the world, your message will be directed to Cohen Electronics Consulting Cohen Electronics Consulting
If you are an admirer of science and in particular of physics, I invite you to visit the following website, in Spanish, you will be impressed by the scope that she has LA RETICULA